DigiCreatiV is a Digigraphie Certified Print Lab.
We specialise in providing you with high-quality fine art limited edition Digigraphie certified prints, Giclée prints and Personalised Canvas and Acrylic prints which you can have printed to any size and to any style including standard, photo collage and bus scroll prints.  We're here to make reproducing your artwork and photographs easy for you.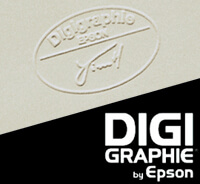 We provide you with a quality, efficient and personal service.
Each of your prints are professionally and carefully produced to the highest standards, using Epson's Pro 9900's Printer with 10 colour UltraChrome series Ink, in a fully colour calibrated workflow, across a wide range of the finest and unique papers.